A little confused about the ins and outs of wireless charging? Let us help.
When people discuss wireless charging they're usually referring to inductive charging. Believe it or not, this kind of technology has been around for over a decade. Take your electronic toothbrush for example. You thought that was charging by magic? Nope that was wireless charging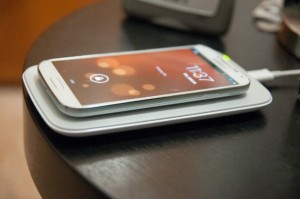 .
So now technology has gone a step further, we've completely ditched the cords and we're resting our mobile phones on little charging pads in order to juice up.
Here's where it gets a little bit more complicated.
There are a number of different wireless standards out there, but the one that seems to have attracted the most attention of late is Qi (pronounced 'Chee'). Developed by the Wireless Power Consortium, the technology in compatible Qi pads is capable of charging smartphones, tablets, cameras and portable power packs.
So how do you know if your smartphone is Qi compatible? Your device should have a little Qi logo on it somewhere; check the packaging, case and manual.
Alternatively, have a look to check if your phone is on the Qi enabled list.
There are tons of Qi wireless pads available to buy. Have a look at;
Just a little note: You will need a pad for wireless charging; a smartphone that says it has wireless charging capability will not charge itself.
So what are the advantages of wirelessly charging your phone? Well, no more tangled cables, a single charger for all your compatible devices, less chance of wear and tear and kinder to the environment as you will generate less ewaste.
So why has wireless charging been a bit slow off the mark? We think it could be due the industry's confusion with the differing standards. Or perhaps it's because the name is slightly misleading. After all it isn't truly wireless; you still need a cable to plug into the mains power supply!